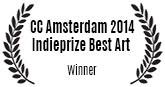 Icycle: On Thin Ice is the sequel to the absurd post-apocalyptic Icycle game.
The platform puzzler with no enemies, no friends and nobody to love.
Poor Dennis lost everything on earth.  Now he's losing the plot.
OUT NOW on iPhone, iPad & iPod Touch
Ports to other platforms in progress
More content coming soon!